Expressive Arts and Design
In this section...
The development of children's artistic and cultural awareness supports their imagination and creativity. It is important that children have regular opportunities to engage with the arts, enabling them to explore and play with a wide range of media and materials. The quality and variety of what children see, hear and participate in is crucial for developing their understanding, self-expression, vocabulary and ability to communicate through the arts. The frequency, repetition and depth of their experiences are fundamental to their progress in interpreting and appreciating what they hear, respond to and observe.
Children love to explore paint and colour mixing and are very curious about how colours are made and how they can be changed. They become more confident with their use of tools through Expressive Arts and Design as they explore scissors, glue spreaders, sellotape dispensers and paintbrushes for example. Children enjoy various art activities but in particular junk modelling, as this encompasses all of the above skills related to using tools.
Here's an example of high quality interactions that support arts and design development, captured on our electronic platform, Tapestry.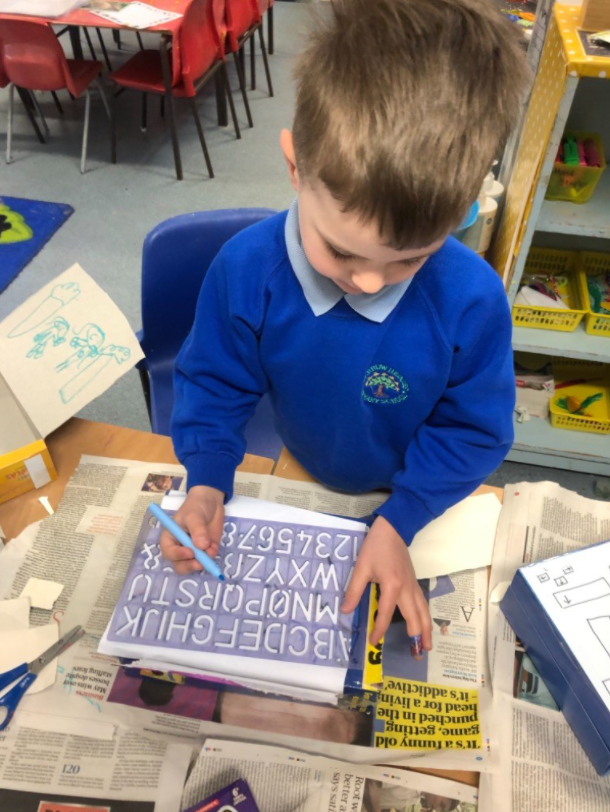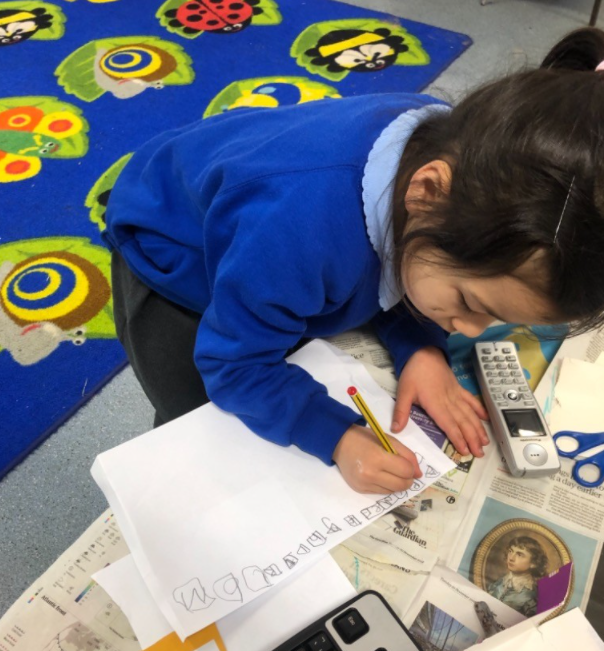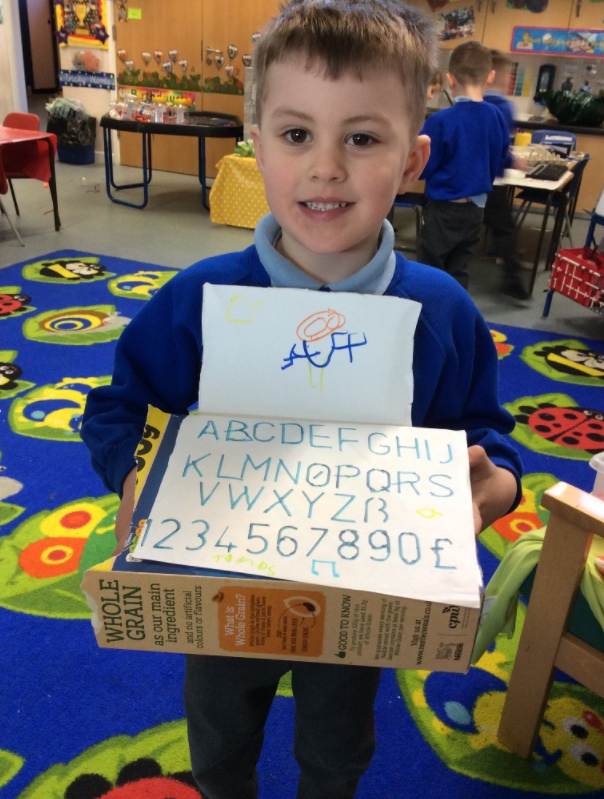 We all love junk modelling. Recently we have been showing lots of interest in different types of technology and are excited today to see that Mrs Hutchison has put some different technological items on the junk modelling table. (M) "Look at this long keyboard. It's got so many letters on it. I can write my name on it see this is a m and then I need a i and then an a...that spells M." (J) "I think this is a phone. It's different to my mummies phone because it's got number on the button. You don't touch the screen." (N) "On my mummies phone she has apps, I can't see any apps on this phone." (N) "My daddy has a keyboard on his laptop but the keyboard isn't just on its own." Mrs Hutchison joins us and asks us what we are going to make? (N) "I want to make a phone like my mummies ones. I can put apps on it and talk to my church friends. You know like my mummies one because you can play games on that and also talk to people. I play a app called playtime island app." (J) "I want to make a laptop like my daddy has. He uses it for his work. It's got a screen at the top and a keyboard at the bottom. I don't use that I use my iPad. That's just a screen that you touch. I watch ninja kids on it." Mrs Hutchison helps us use the Fox class computer to search the Internet to look at different types of technology that we want to make. (J) "See I like that computer. I think it's a laptop one because that top bit can open and close. My daddy has a laptop for all his work. He uses it at home." (N) "I want to make a laptop as well because my daddy has one. I want to make a mini laptop though because I'm smaller." (M) "I like that laptop. It's got lots of buttons and a big screen. You know you can move a laptop around but a computer like Fox class one just stays on the desk." Once we've all chosen what we want to make Mrs Hutchison asks us to think about what junk would be best to use. She reminds us to think about the shape of the object we want to make and how best we would join all the pieces together. (J) "I can't use a milk carton for the laptop because it's a bendy shape. This box would be good because a laptop is a box shape. I can glue this paper card bit on the top for the laptop buttons." (N) "See this funny lid, this be a good phone because it's got a big bit for the apps at the top. I can draw numbers on it as well. I need to put the glue on the paper first and then stick the paper on the lid bit." (M) "I need to use this box. I need to cut around the out bit so I can make it into the screen. I can draw a picture on the screen so it looks like a real laptop." (N) "This box is a good one because it isn't too big and it isn't baby small size. It's a mini laptop size. Can you pass me those scissors so I can cut a screen bit. I need to clue this bit down so I can draw the buttons on. I think I can use this stencil, see look it looks like the letters on the laptop." (J) "I need to cut the sellotape so I can stick these side bits down. See this is where I'm going to draw the buttons on, then I can type all the words." After we've finished putting our creations together we decide to use them with our friends in the Fox class jewellery shop. (M) "I can put on the computer all the things the people have brought. This is my work." (J) "I can help you find all the necklaces on the Internet. My laptop has a finding button." (N) "Hey F we can use my phone to call all the superheroes. Look you need to press 3,5,6,9... That's the superhero phone number." (J) "I can do all the typing on this laptop. Look you press these buttons." (N) "N do,you wanna borrow my mini laptop to find out all about unicorns?" Finally we get busy writing how we made our creations on pictures that Mrs Huchison took of us. We try really hard to write sentences, remembering to hold our pencils correctly, use capital letter, fingers spaces and full stops.

Wow Foxes Mrs Hutchison can't believe what a great job you did on your technology creations. I love that you really though about what you wanted to make. You could all handle the different tools correctly and made sure you were super safe with the scissors. You could also ask for help if you found a particular tool a little tricky.
Great Job boys and girls 👏👍😃