Our School
In this section...
Barrow Hedges was last inspected by Ofsted on 18th and 19th July 2023. We are thrilled to confirm that we have been graded as Outstanding in all areas. To read our full report, please go to the Ofsted and Standards page.
Barrow Hedges Primary School originally opened in 1955. Heavily over-subscribed, we are situated in a leafy, residential area between Wallington and Sutton. At present we have 694 children on roll, including 45 children in our own nursery. We are an academy in the Cirrus Primary Academy Trust. Previously a two-form entry school, we now have three classes in each year group.
We have extensive grounds, including a large playing field and a Multi Use Games Area (MUGA) and trimtrail, as well as two halls, one of which is designated for music and the arts, spacious corridors and classrooms and a fantastic playground with many engaging features; making our environment a great place to learn and achieve. Additionally, we have a sensory room and a SEN teaching room.
We are always keen to evaluate what we do well and what we need to work on in order to build upon our successes and further develop. Children, parents, governors and staff work together in a culture of high academic success and shared responsibility.
Ofsted states that "Pupils are rightly proud to be part of this inclusive, kind and friendly school. They benefit from positive and respectful relationships with adults and other pupils. This starts in the early years, where children learn to play well together. These strong foundations and clear and consistent expectations mean that pupils' behaviour is exemplary. Pupils understand the importance of being accepted, 'whoever you are'. This helps to ensure that pupils feel safe and are kept safe at school. Leaders are highly ambitious. This is realised for pupils both in their academic and personal development. Pupils study a rich and interesting curriculum. They produce work of high quality in different subjects. Pupils embody the school values of kindness, inclusion, honesty, respect and ambition. As a result, pupils are very well prepared for the next stage of their education."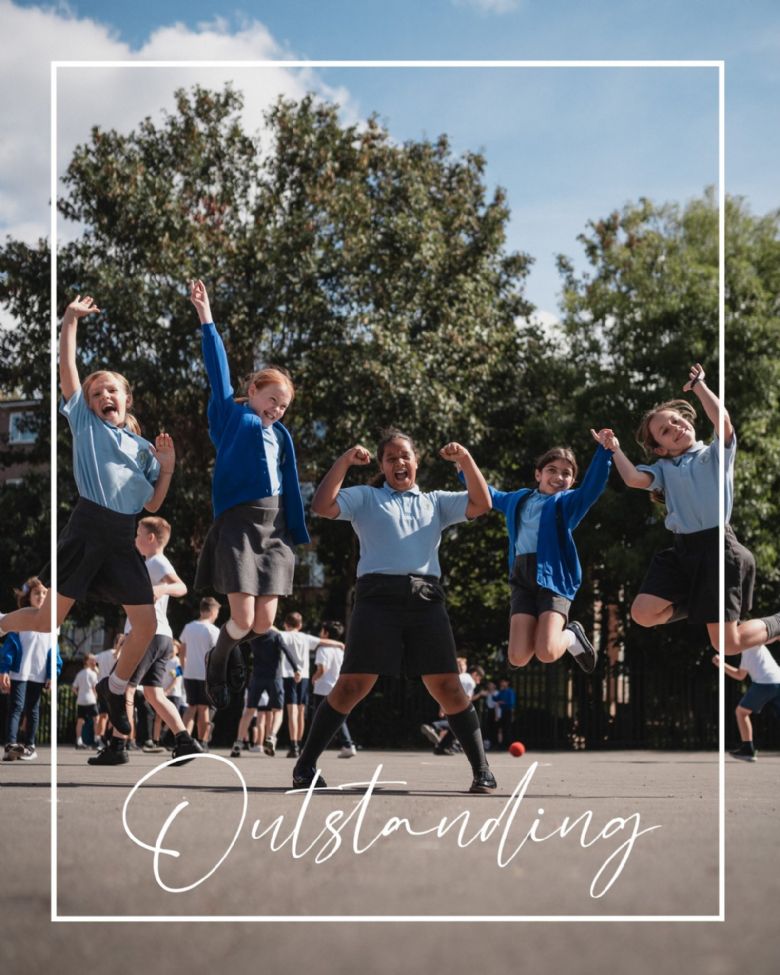 Children in the Nursery do not automatically transfer to the main school when they enter Reception. If you have a child in our Nursery and wish them to continue into Reception, you must apply for a place - please visit our Admissions page for details.

Children enter Reception in the September following their fourth birthday. Classes are of mixed ability and mixed gender, and there are normally 30 children in each class. The school has an intake of 90 pupils at entry into EYFS and across KS1, and there are therefore 3 classes in Reception. We increase our class sizes to 32 per class in KS2 (at Year 3).
Children in the Nursery and in Reception are in the Early Years Foundation Stage (EYFS). Children in Year 1 and Year 2 are in Key Stage One (KS1). Sometimes both of these groups are referred to as 'infants'. All of our infant classes are named after animals (e.g. Caterpillar, Otter, Kingfisher etc).

Children in Years 3 to 6 are in Key Stage Two (KS2) and are often referred to as 'juniors'. Classes are named after a tree (e.g. Oak, Lime, Cedar, Sycamore etc).
Class teachers are responsible for the children's welfare and delivery of the curriculum. Work is planned jointly with Year Group partners during 'Planning, Preparation and Assessment' [PPA] time. During planning, Year teams share the preparation of work drawing on different experiences, knowledge and expertise to ensure work is relevant and well matched to meet the needs of the children. In this way, we are able to utilise the strengths of a large staff team and enhance the quality of learning and teaching here at Barrow Hedges.