Pirates Ahoy! - Autumn 1
In this section...
The children find learning about pirates very exciting after learning about sharks and the other animals in the sea from our topic, 'Don't Eat the Teacher!'
For Pirates Ahoy! we learn to play cooperatively in a group to tell stories and to ask and answer questions.
On Monday we find some muddy footprints and clues as to who might have left them there!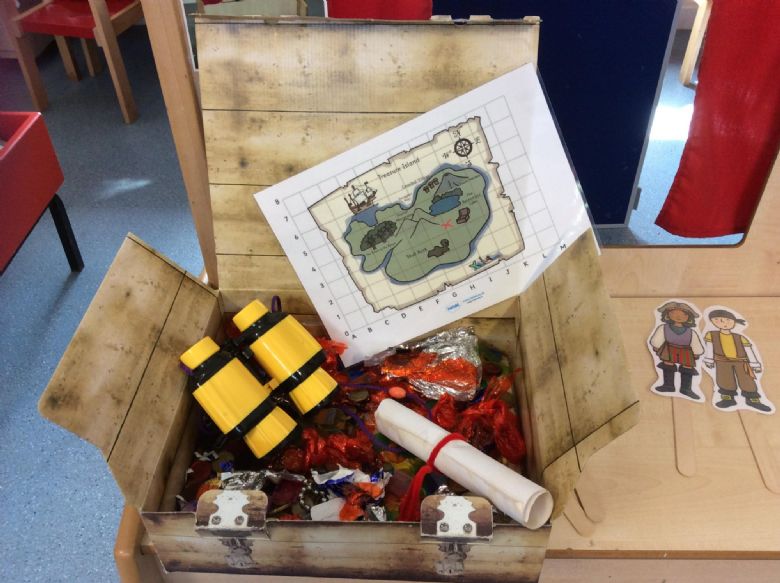 There is a spade; could it be a builder with dirty boots? Could it be a gardener? We also find some treasure which we use to buy things. Finally, we find a map and decide that a map helps us to find our way. We ask lots of questions: Who left the clues behind? Where did they come from? Why did they leave the spade, map and treasure at our school? What should we do with them?
After lots of talking and thinking, we decide that Pirates might have been to school and that the 'muddy' footprints are actually from "Octopus squid ink!"
The next day a real life pirate comes to our school. We ask lots of questions starting with words like, 'Who?', 'Where?', 'What?', 'Why?' and 'When?'
The visiting pirate tells us that Captain Blackbeard is trying to snatch her treasure. She does not want Captain Blackbeard to get it because he is not very good at sharing! We promise to hide her treasure and keep it safe. We also promise that we would find Captain Blackbeard and ask him to share fairly.
We then embark upon a pirate hunt to find that pesky pirate! We learn the poem 'Going on a Pirate Hunt' using pictures and actions.
We learn to tell the story of 'Going on a Pirate Hunt' using language from the poem and by using our own words.
We make up pirate stories everywhere; outside in the 'Theatre', in the construction area after building a big pirate ship, at the small world table and in our role-play areas. We have so much fun telling our pirate stories. We never do find that pesky pirate though!
We can now ask and answer questions and tell stories with our friends, playing cooperatively in a group.