School Travel Plan
In this section...
The main purpose of a School Travel plan is to encourage active travel across the whole school. Barrow Hedges does this by taking part in 'Walk Once a Week' for certain months of the year where children tick when they have walked every day. If they have walked at least once a week, then they get a badge at the end of each month. This encourages children to walk, scoot and bike more.
As part of this scheme, we also run a yearly competition where the children are invited to create a WOW badge based on a theme. If they get chosen, they get made into a badge for the following year.
For the first time this year, we took part in The Big Pedal where children were encouraged to ditch the car and come to school by walking, scooting or bike. We calculated each class's scores every day and uploaded them on the website to compare with schools across the country. We came 382nd out of 528 schools in the country and 81st out of 144 schools in London. To celebrate the week, we took part in Bling up your Bike and Scooter. Here are some of these: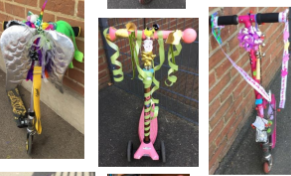 We've recently had a new scooter rack installed as so many children scoot so school! This was kindly funded by the PTA.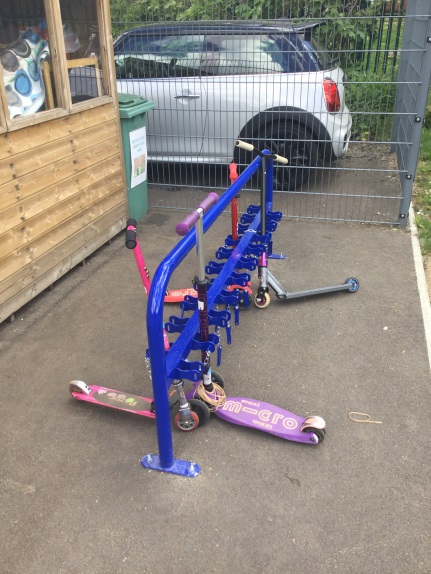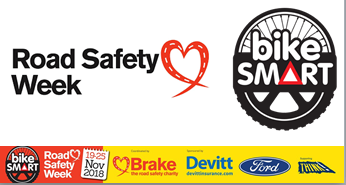 During Road Safety Week in October, we learned about how to be safe when riding on the road in association with the charity Brake. Year 6 also take part in a 'Bikeability' scheme where they learn bike safety.
At the end of the year, the whole school takes part in a hands up survey to see how children come to school. Last year there were 62% of children taking part in active travel which was an improvement on the year before of 54%. The aim for this year is to increase it to 70%.
It is lovely to see more and more children walking to school so that Radcliffe Gardens and Harbury Road does not get too busy at school drop offs and pick ups. It would be even greater if parents could park 5 minutes away and walk a short distance to avoid congestion.