What Can I Celebrate? - Autumn 2
In this section...
After the half-term holiday, lots of the Nursery children were eager to talk about celebrations they had at home with their families. There was lots of talk and excitement about Halloween, Diwali and Bonfire night. We spoke about celebrations and how people celebrate different things in different ways.
For this topic we (the children) are learning about different celebrations and the different ways we can celebrate. We are learning about similarities and differences between themselves and other families celebrations and traditions.
We thought about the diffrerent festivals and celebrations we have in our own families and communities and some Mummies came into Nursery to tell us all about Diwali.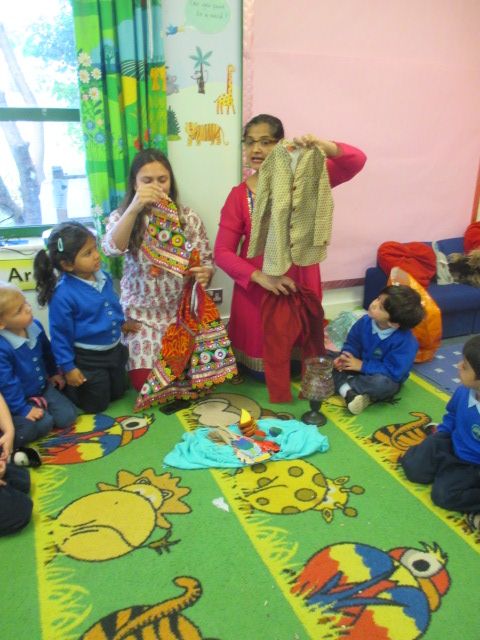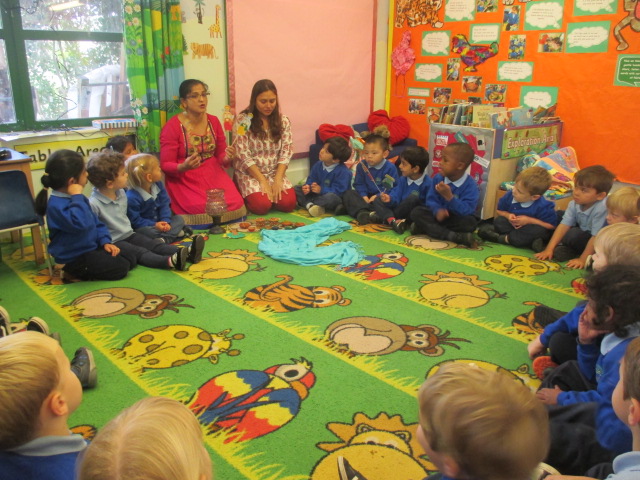 We learnt about the special clothes people wear to celebrate Diwali and listened to the Diwali story.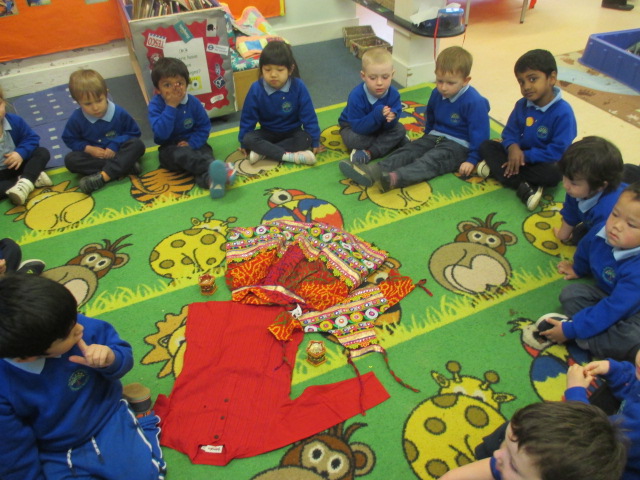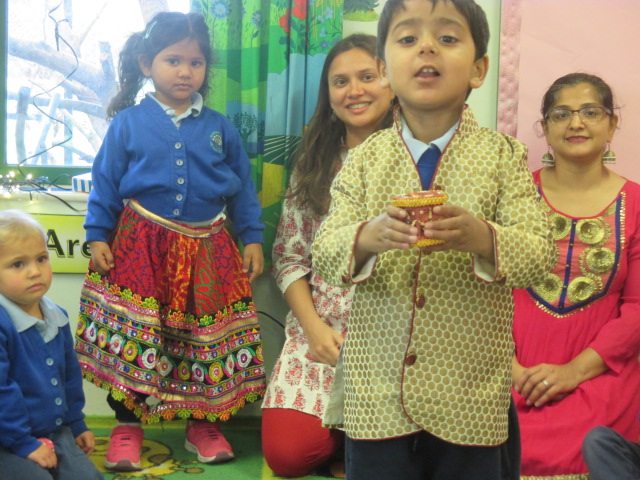 Some children had sparklers for Diwali because Diwali is the Festival of Lights. Lots of children had sparklers for Bonfire Night too. We compared the different festivals and had lots of fun making firework pictures in different ways with different media.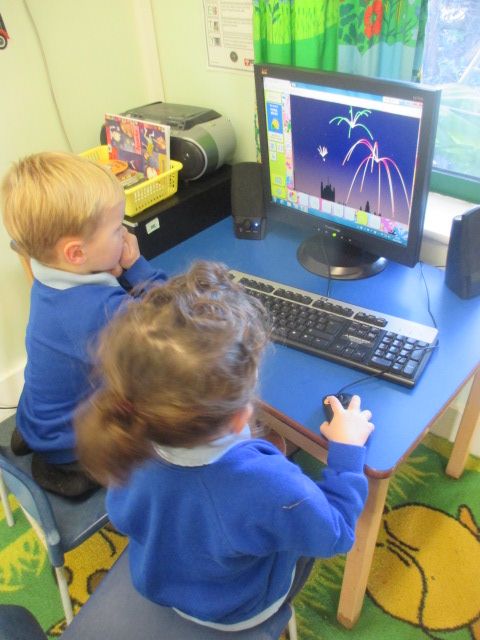 Our friend, Sophie (a puppet), came to Nursery and told us about her birthday. She was sad because she wanted to have a party. We thought of ways to make her feel better and the children wanted to plan a bithday celebration for Sophie at Nursery.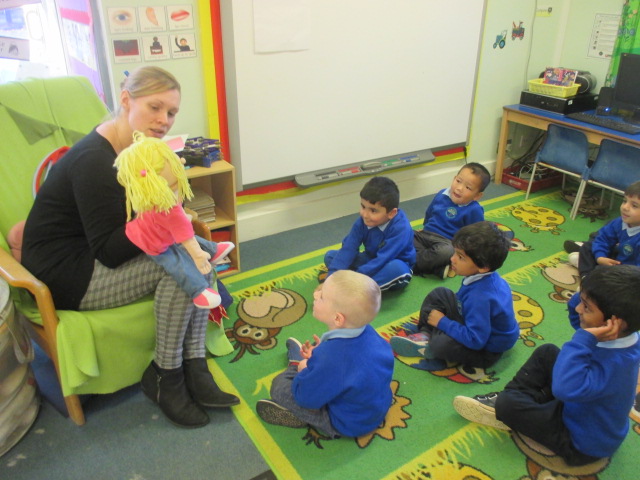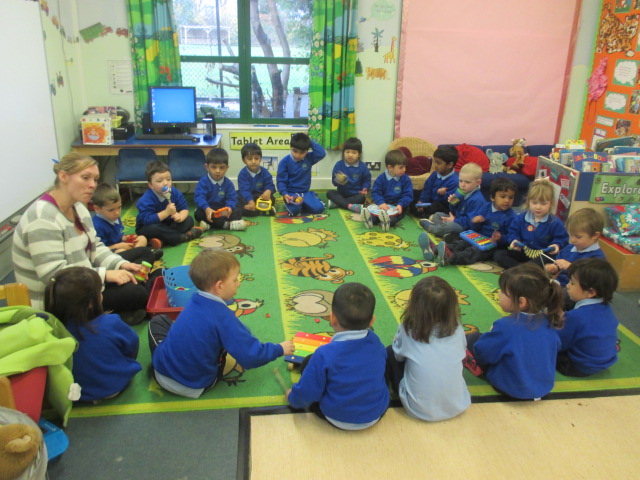 We worked together to write a list of all the ways people celebrate birthdays and the things we would need to prepare for Sophie's party. We practised singing 'Happy Birthday', using instruments and planned to come to Nursery in our own special party clothes.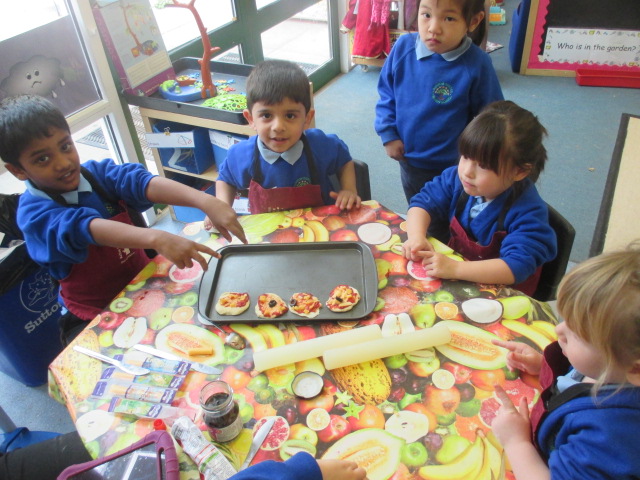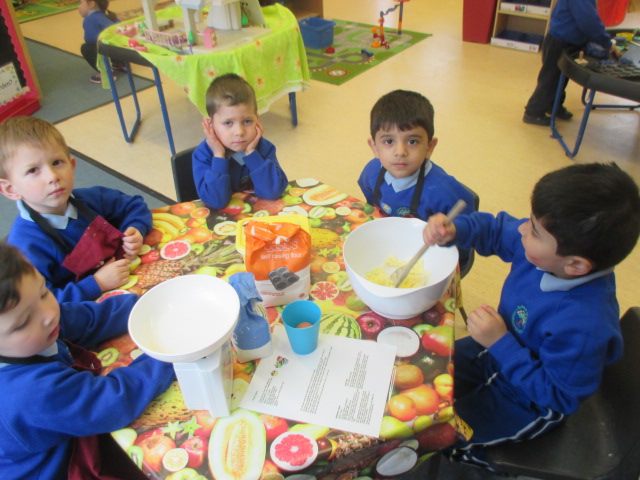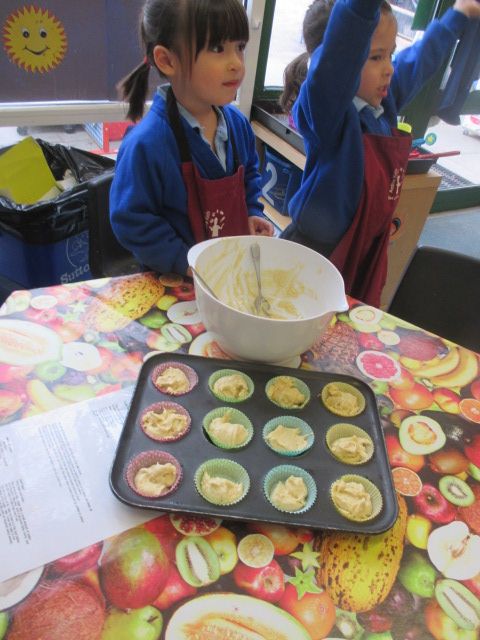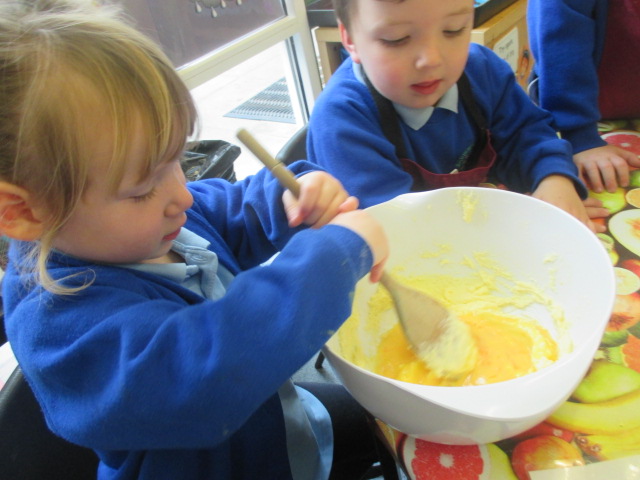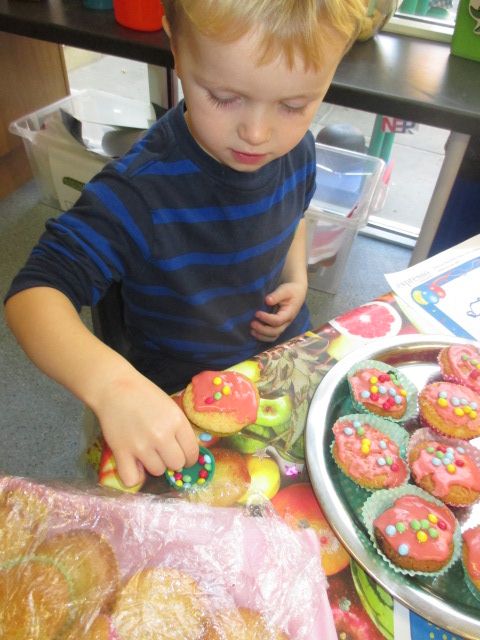 We learnt that people often celebrate with special food. We talked about the different party food we would like and decided that Sophie would need a birthday cake for her party. It was lots of fun to mix all of the ingredients together and look at the changes that happened to the mixture once it had come out of the oven. We decorated the cakes, using our careful fingers to put on circle sprinkles. We also made circle pizzas with circle cheese, tomatoes and olives. It was all delicious!
On party day we wrote birthday cards for Sophie and presented her with her cards and cakes. We also gave Sophie a birthday present.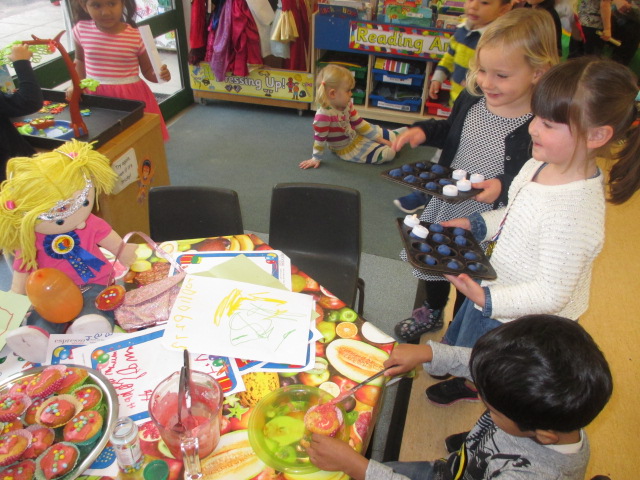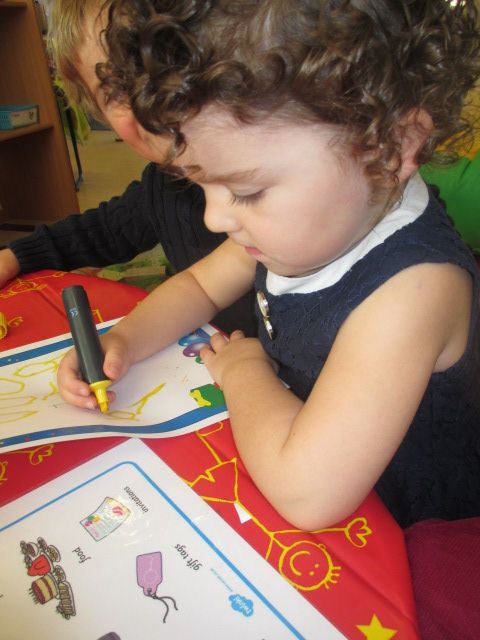 We planned the party games to play and enjoyed playing musical statues and pass the parcel. We also planned to have a bouncy castle and couldn't believe it when we arrived at Nursery to find one! It was so much fun taking turns to bounce with our friends!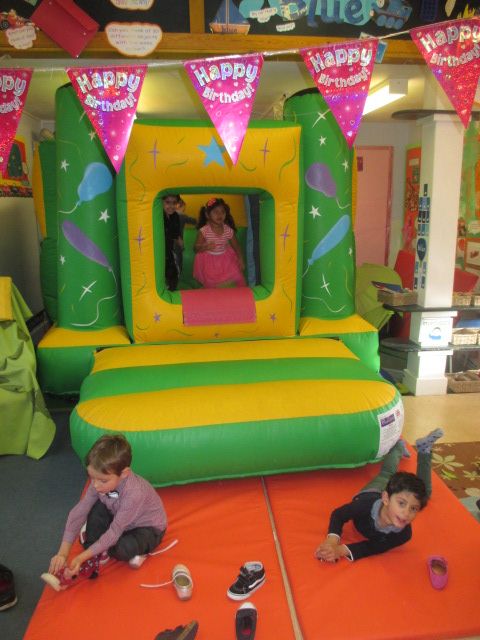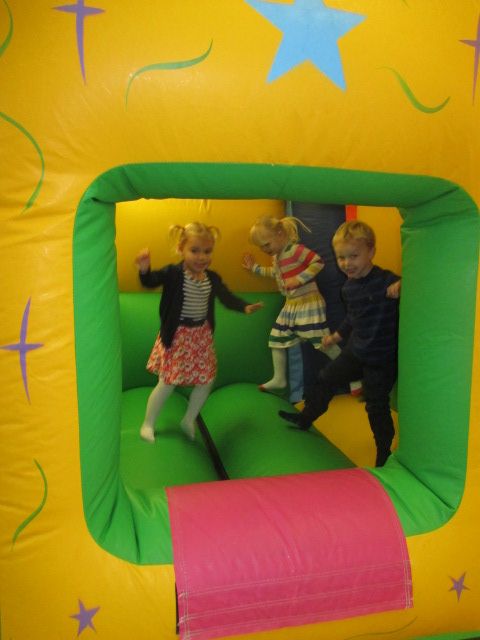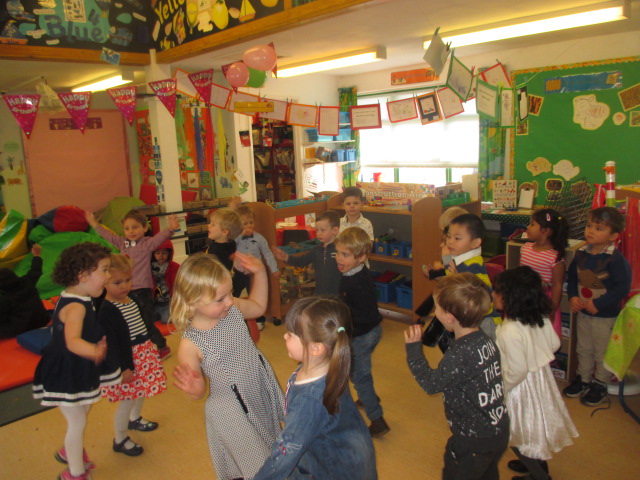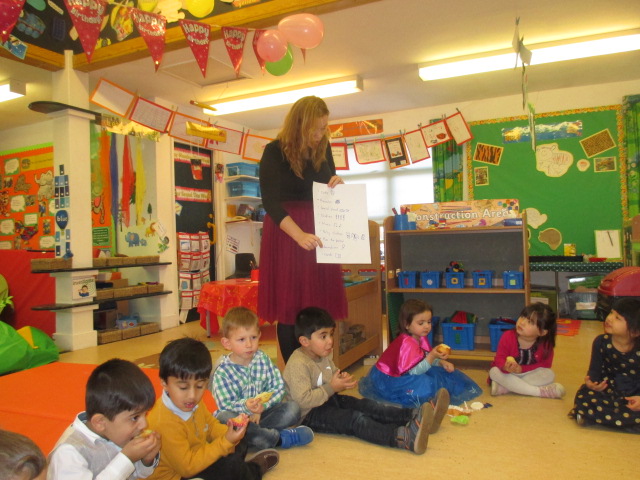 We looked at our planning list at the end of the party to check that we had done everything we needed for a good celebration. It was such a good day and a wonderful memory of Nursery.
Continuous provision and activities to support our learning: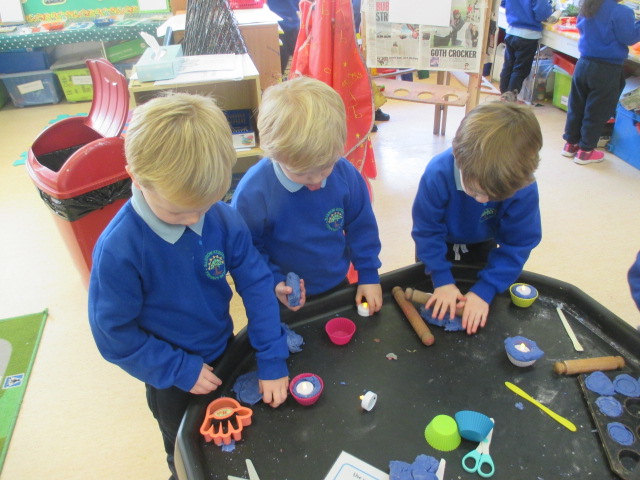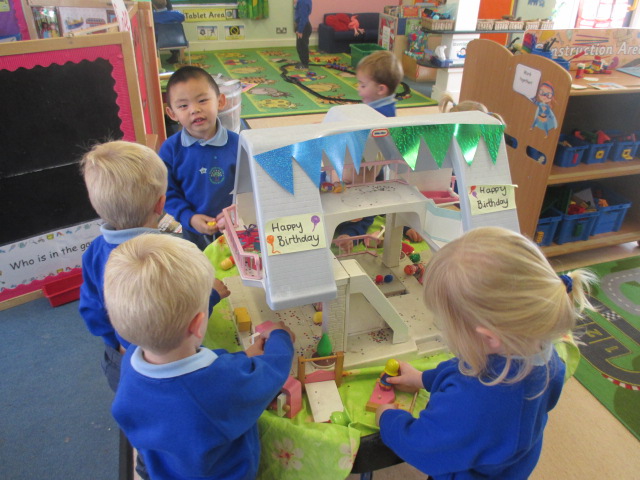 Look at our work!